For beginners
Basic make-up course (RU\EN)
Starts date

Course cost

euro

Duration

Free places

0
About this course
The course is designed for beginners in the beauty industry and for masters who want to improve their work skills and master new make-up techniques using different textures. The course lasts 8 days (the last day of the course is the exam). Program: 21.09.2023 Perfect skin. Foundation, correction and sculpting, blush, highlighter. Modern technologies. 22.09.2023 Lips. All techniques of bright and juicy lips. 28.09.2023 Eyes. Modeling of different eye shapes. Working with different textures. Shadow blending. 29.09.2023 Eyeliner. Modeling the eyes with the help of a feathered, inter-eyelash and graphic arrow. 5.10.2023 Smokey eyes. Fashionable high-speed techniques for creating a variety of Smokey for any client. 6.10.2023 Wedding make-up. 12.10.2023 Fashion make-up. 13.10.2023 Exam. There are different options for buying and attending the course - a full basic course, after which the student receives a diploma on completing a basic make-up course, and buying a separate master class on a chosen topic: in this case, the student also receives a diploma on completing a course on a specified topic. The cost of the full basic course is 1,500 euros. The full cost of the course includes a starter set of make-up brushes, which the student uses during the course and keeps after the course. It is also possible to buy each day of the course if you are a working master and want to improve your skills on a particular topic. The cost is 150 euros (excluding the basic set of brushes). The master can bring their own brushes or buy them at the school on the day of the course with a 25% discount. It is possible to purchase and pass the course in blocks: Basic Block 1 - Make-up Start includes topics: - Perfect skin. Working with foundation, correction and sculpting, blush, highlighter. Modern technologies. - Lips. All techniques of bright and juicy lips. - Eyes. Modeling of different eye shapes. Working with different textures. Shadow blending. Cost - 550 euros - the cost of the course with a basic set of brushes Basic block 2 - Smokey eyes + Hollywood make-up includes themes: - Perfect skin. Working with foundation, correction and sculpting, blush, highlighter. Modern technologies. - Eyeliner. Modeling the eyes with the help of a feathered, inter-eyelash and graphic arrow. - Smokey eyes. Fashionable high-speed techniques for creating a variety of Smokey for any client. Cost - 550 euros - the cost of the course with a basic set of brushes Basic block 3 - Wedding + Fashion make-up includes topics: - Perfect skin. Working with foundation, correction and sculpting, blush, highlighter. Modern technologies. - Wedding make-up. - Fashion make-up. Cost - 550 euros - the cost of the course with a basic set of brushes. Bonuses: All consumables and materials for work (except brushes) are provided by the Academy. On the day of the course, a 25% discount on the purchase of materials is provided. At the end of the course, each student receives an international standard diploma, a nice gift by Kodi Professional and a 15% discount on products on an ongoing basis (except for products with a fixed discount). Course duration 11:00 – 16:00 Theoretical part – 11:00 – 13:00 Coffee break – 13:00 – 13:30 Practical part – 13:30 – 16:00
Do you have any
questions?
Call today to speak with an admissions counselor
Curriculum of course
You Will Learn:
Day 1. Perfect skin. Foundation, correction and sculpting, blush, highlighter. Modern technologies.

The most important thing in make-up is achieving the effect healthy and glowing skin. If there is no such skin, we will help you create it! Let's take a look at different skin types and skin care products.

By the end of this course, you will have all the information you need to know about working with facial skin in make-up. You will be able to create healthy, radiant skin, as well as deal with various skin problems, achieving the perfect result. Get ready for an exciting journey into the world of make-up and skin care!

Day 2. Lips. All techniques of bright and juicy lips.
Lips are one of the most expressive parts of the face and the correct lip make-up can completely transform your look. We will look at the different styles and effects that can be achieved with the right selection of shades, textures and application techniques. You will learn about classic nude lip make-up, ombre effect, deep and bright shades, as well as many other modern techniques that will help you express your personality and style and enhance the beauty of your client.

Under the guidance of our experts, you will learn how to create perfectly even lines, match the shape of the lips according to the anatomy of the client and work with different textures of lip make-up products. You'll also get to know the best products on the market to help you achieve sharp, long-lasting winged eyeliner.

Day 3. Eyes. Modeling of different eye shapes. Working with different textures. Shadow blending.
You'll learn about the latest eye make-up trends, master classic styles and learn how to create your own unique looks.

With our course you will receive:
1. Detailed knowledge from professional make-up artists who will share their experience with you.
2. Practice sessions where you can try different techniques and styles on your own.
3. Step by step, we will teach you how to create unique images for various events - from everyday make-up to evening outings.
4. Particular attention is paid to the selection of make-up in accordance with the shape of the eyes, in order to surprise the client with new types of make-up every time.

With our course, you will no longer be afraid to experiment and will be able to easily emphasize your beauty and the beauty of your clients, will feel like a confident make-up master and give smiles and admiring glances around.

Day 4. Eyeliner. Modeling the eyes with the help of a feathered, inter-eyelash and graphic arrow.
Creating perfectly even eyeliner is an art that requires attention to detail. An advanced training program will help you become a true winged eyeliner making pro.

Consider these steps:
Step 1: Perfectly even winged eyeliner.
Step 2: Winged eyeliner building technique and avoiding mistakes.
Step 3: Choosing the shape of the winged eyeliner for different types of eyes.
Step 4: Variety of winged eyeliner types.
Step 5: The best products for sharp, long lasting
winged eyeliner.
Step 6: Working with false eyelashes.
Step 7: Choosing the color of the lipstick for the "winged eyeliner" make-up.

It is important to remember that the skill of making winged eyeliner requires practice and patience. Following the algorithms and techniques learned in the course and continuing to develop, experimenting with different styles and products. Ultimately, you will be able to achieve perfectly even winged eyeliner and create impressive eye make-up.

Day 5. Smokey eyes. Fashionable high-speed techniques for creating a variety of Smokey for any client.
Smokey eyes make-up is a stylish and effective eye make-up option that creates a deep and mysterious look. The main features of Smokey make-up include the use of dark shades of eye shadow and soft eyeliner. This make-up is great for evening outings, parties and special events. With the help of Smokey make-up, you can highlight the eyes, give them expressiveness and attract attention. This make-up style also allows you to experiment with different colors and shades to create a unique and personalized look. To perform Smokey make-up, it is important to use quality products and the right eyeshadow brushes.

In general, Smokey make-up is a versatile and stylish choice that allows you to stand out from the crowd, emphasize your beauty and confidence, and create an unforgettable impression on others. This make-up is a great way to express yourself and show creativity through cosmetic techniques.

Day 6. Wedding make-up.
Wedding make-up is a special art form that requires attention to detail and professionalism.

To do this, we will consider the following steps:
1. How to create a flawless base.
2. Techniques for applying the perfect foundation.
3. Quick spa facials.
4. Skin care products and primers overview.
5. Individual approach to sculpting.
6. Working in tandem with a hair stylist.
7. Stylistic intricacies for the bride.
8. Dealing with the bride syndrome.
9. Pricing for expensive brides.
10. Turning the bride into a loyal client and recommendations.
11. Bonus material.

Day 7. Fashion make-up.
Welcome to the exciting world of fashion make-up, where every moment becomes a fashionable masterpiece, and your look is a source of inspiration for everyone around!

Our fashion make up course is an immersion in the most daring and creative trends in the fashion world. You will learn how to create unique images that will emphasize your individuality and express your charisma.

With our course you will receive:
1. Lessons from experienced fashion make-up artists who will show you the latest fashion trends and make-up techniques.
2. Ideas and tips on how to transform your looks for events ranging from fashion shows and photo shoots to flashy parties.
3. The ability to experiment with different styles and color combinations to express yourself in the fashion world.
4. Step by step, we will teach you the intricacies of contouring, using unusual shades and creating bold accents.

With our fashion make up course, you will become a true fashion icon and present your unique looks to the world. You will be admired and will inspire others with your creativity.

Day 8. Exam
Schedule course
Course name
Schedule
Start date
Cost
Apply
Teacher of course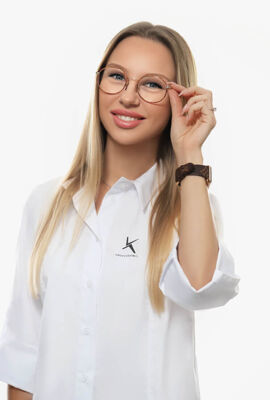 about master
Make-up artist, stylist, brow expert.
Kodi Professional's brand manager for make-up.
Kodi Professional's leading instructor-technologist.
2019 WBF World Champion, Austria in the Special Award "Purple Brush Make-up" nomination - 2nd place.
2018 WBF World Champion, Austria in the Special Award "Purple Brush Make-up" nomination - 3rd place.
Certified trainer of the International Academy Kodi Professional (Ukraine, Kyiv) and the International Academy Kodi Professional (Cyprus, Larnaca) in the field of make-up.
International judge of make-up championships.
Author and developer of educational programs in the field of make-up.
Cooperation with TV, tabloids, photo studios.
More than 15 years of experience in the beauty industry.
Courses of master
25% discount on the day of training
15% is fixed on an ongoing basis (except for goods with a fixed discount)